Welcome to the Virtual tour!
You are about to explore the location of Pilot Project 1 in the Circeo National Park. This virtual tour is intended to show new perspectives on the waterways crossing the wetlands of the Park, both the most natural ones – memory of the original landscape – and those constructed as part of the activities of the REWETLAND project. It is a unique visual experience, thanks to the shots made with innovative tools and methods, which will take you to places not easily accessible and often unexpected.
The path runs around the Lake of Fogliano, an area of great natural and cultural relevance. The visit concerns in particular the areas upstream of the lake, among the canals and watercourses of the Great Land Reclamation of the Twenties, including Canale Allacciante Fogliano, Rio Martino, Canale Colmata and Canale Cicerchia. In addition to the watercourses, it will be possible to see the paths and tracks – existing or yet to be opened –, which can be connected to each other in future projects related to ecotourism activities in the area of Fogliano.
Points of view:


From the ground ‐ 360° panoramic images


Bird's eye ‐ Aerial video shots made by a drone


On the water ‐ Video shots taken from a canoe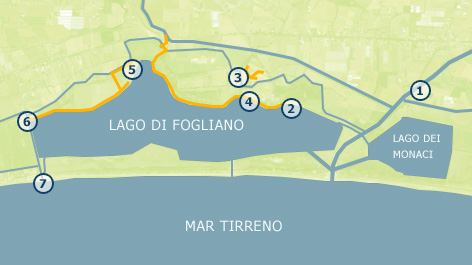 The locations of the 360° images are seven: Canale Rio Martino (1); from where the waters feeding Pilot Project 1 are drawn; Villa Fogliano (2) ; the artificial ponds located behind Casino Inglese (3); the lakeshore nest to the "Registri" (4); the area of Pantano Cicerchia (5); the corner of the lake next to Via del Mare (6); and, finally, Capoportiere (7), where the pumping station raises the waters of the canals to sea level.